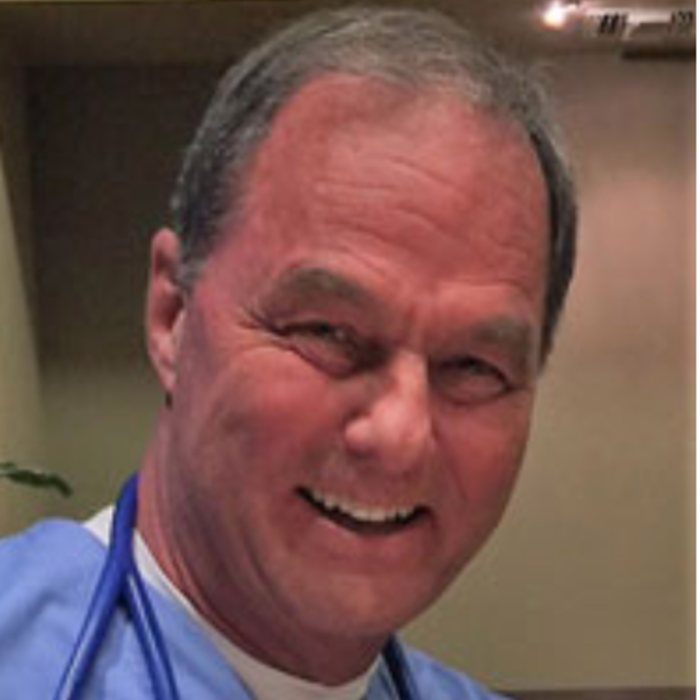 Charlie Sink, DVM
Dr. Charlie Sink is just a farm boy from Indiana at heart. At the age of 5, working on his family farm, he developed his passion to tend to animals and nurse them back to health. His fascination with medicine and animals led him to be a trusty assistant to the area veterinarian. When he was not busy with school, working on his family farm, or playing Indiana basketball, you would find him working with the vet. Charlie attended Purdue University in Lafayette, Indiana, and graduated in 1968.
After graduating from Purdue, he took his first job working in the Chicago suburbs in a small animal veterinary hospital with an exceptionally talented friend and mentor, Dr. Harold Moe. In 1969, he was fortunate enough to purchase the hospital with his classmate, Dr. James Scott. This made them the youngest owners of an animal clinic in the Chicago area at that time.
While the practice grew wildly, they found that they were not able to spend the time they wanted with their young families. On one particularly busy day, over a quick sandwich in the back room, they spotted an ad for practice for sale in Cheyenne, Wyoming. Within days they were on a plane and purchased the practice, moving both families West. It was in Cheyenne that the young veterinarians were able to grow and develop the practice they wanted while hunting, fishing, camping, and skiing with their children. Dr. Sink remained in Wyoming until 2000. He then sold the practice and moved to Arizona to be closer to his children and grandchildren (and finally stop shoveling snow!).
Semi-retired in a new place, he worried that he was too old to start a new practice on his own and he eventually went to work for a large national corporation. After 5 years of working for the chain of animal hospitals, he decided that his heartfelt philosophy on the care of animals was in direct contradiction with that of a large corporation. Money had become the main focus of veterinary care, instead of the care of animals. He was no longer proud of the profession which he had practiced in for over 40 years and he knew that it was time to retire.
His retirement did not last long! After six weeks, he was stir crazy! He missed the cats and dogs, missed the surgeries, and missed the people. Dr. Sink and his wife decided to open a practice that would make him proud to be a veterinarian again.
In September of 2008, Grand Paws opened a small 1,400 square foot office in Sun City. It began with Dr. Sink and 3 staff members. Dr. Sink's practice has grown like wildfire since the day he opened the clinic's doors. There was oftentimes a line outside with many pets waiting to be cared for while their owners chatted and socialized. Grand Paws was the place to be! As the staff and the number of patients quickly grew, Dr. Sink and his staff realized they had outgrown the location.
In January of 2014 Grand Paws proudly relocated to it's new, larger location just down the street in Surprise, and with the addition of amazing doctors and staff the clinic again flourished. Because of Dr. Sink's constant vision and philosophy, which is to put the care of the animal above all and to work with our clients to achieve the best possible outcome for their pets without becoming a financial drain to the family, Grand Paws has become what it is today.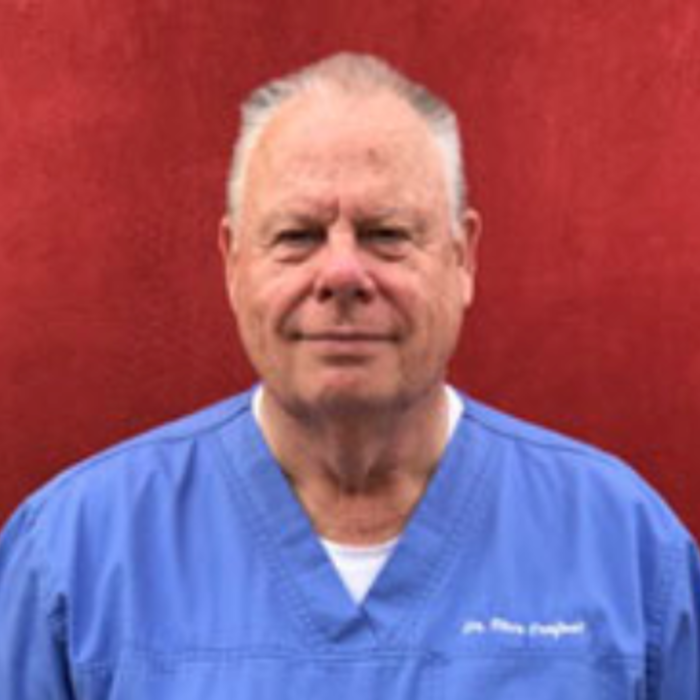 Steve Crofoot, DVM
Dr. Steve Crofoot began his career with Grand Paws in 2009 as a part-time doctor working only 1 day a week. Little did he know, we would need him much more than that as the years passed and our practice expanded. Steve grew up in Kansas on a large cattle farm that had up to 40 thousand head of cattle at a time! He married his wife, Geni in 1970, earned a Bachelor of Science Degree in both Biology and Chemistry, and graduated from Kansas State University with his degree in Veterinary Medicine in 1979. He and Geni raised their two children while he continued to work at clinics throughout Minnesota and eventually opened his own practice in Wichita, Kansas. After 10 years he decided to sell the practice and make the move West. They moved to Phoenix and he practiced throughout the West Valley finally settling in at Grand Paws. Steve's other passion in life is golf. He tries to be on the course every chance he gets.